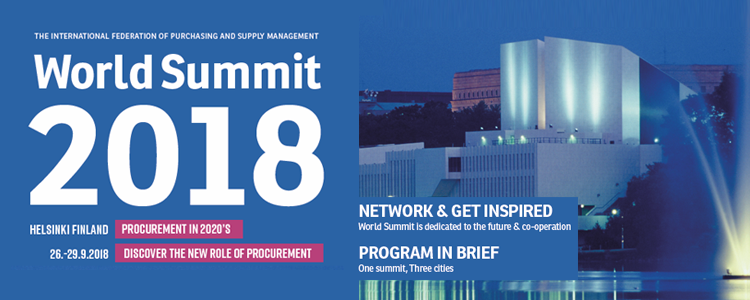 APCADEC apoia o IFPSM World Summit 2018
Condições preferenciais de participação para os Associados APCADEC!
Caso esteja interessado envie informação para:
socios@apcadec.org.pt
+ Info. e Programa:
» Brochura do evento
» ifpsmworldsummit.com
Data:
26 a 29 Setembro 2018
Local:
Helsínquia - Finlândia
Currently there are huge factors changing the landscape of procurement. This will affect us all so we need to try and understand how this will impact the profession so we can prepare for the future. The IFPSM World Summit 2018 will provide international speakers who can offer insights into the new megatrends to enable you to consider new thinking and initiatives to support your association and company's growth in this challenging but exciting environment.
The IFPSM World Summit 2018 is being hosted by LOGY, the Finnish counterpart of APCADEC, and is taking place in Helsinki, Finland over four days. On 26 September you will travel to Tampere for the Subcontracting Fair and return in the evening for a sightseeing tour of Helsinki, followed by a dinner. The World Summit commences on 27 September with a delegate dinner that night and continues on 28 September after which you will board the m/s Silja Europa for an overnight cruise to Tallinn, Estonia providing an excellent networking opportunity.
The IFPSM World Summit brochure gives you full details of the event, the costs and how to register.
For further information and to register click on: https://ifpsmworldsummit.com